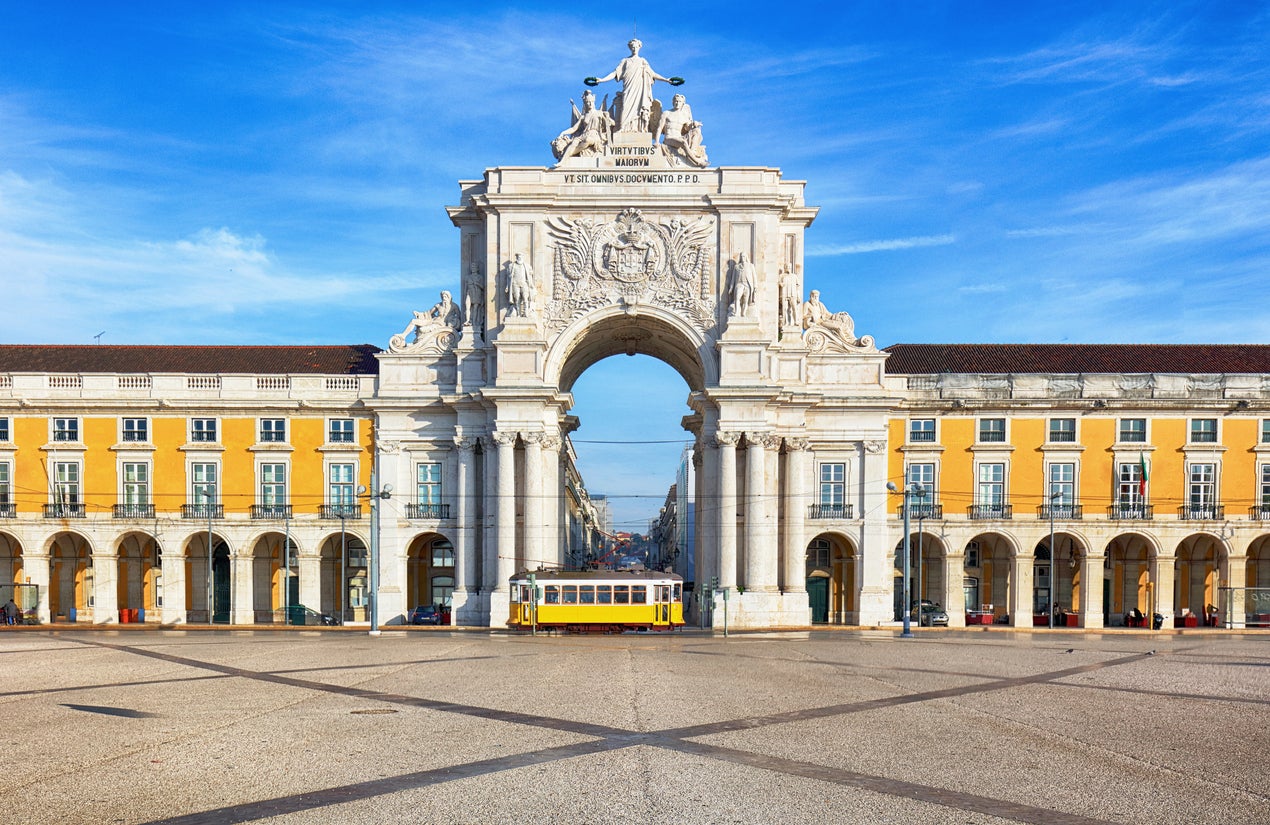 As tentative signs start to emerge of a revival for the travel industry, our minds are turning to potential holiday destinations for this summer.
With excellent surfing, outstanding city break destinations and the world's favourite custard tarts (pasteis de nata), Portugal has long been a favourite holiday destination for Brits.
But can British holidaymakers even get there? And will we be welcome?
Here's everything you need to know.
Am I allowed to travel to Portugal from the UK?
The Foreign and Commonwealth Office (FCO) issued a blanket warning against all non-essential international travel in March, but this has now been lifted for more than 80 destinations.
Mainland Portugal didn't make the cut – the warning was only eased for the Azores and Madeira.
The ban doesn't make travel abroad "illegal" as such – but it does invalidate your travel insurance and means you may find it tricky to get help from the embassy or consulate if things go wrong.
How could I get there?
Flights are still operating between the UK and Portugal.
Tap Air Portugal is operating 14 weekly flights between Heathrow and Lisbon in July.
Ryanair is currently operating one return flight a day between London Stansted and Lisbon – outbound journeys can be pricey, whereas the return leg can be picked up from just £14.99.
EasyJet's started flying to Lisbon from 7 July from London Luton.
Will they let me in when I arrive?
Yes – border restrictions have been lifted on mainland Portugal and its territories of the Azores and Madeira archipelagos (though the latter two have their own rules on testing and quarantine) for certain countries, including the UK.
The country's tourist board is doing its utmost to convince tourists it's safe to return, saying: "The situation is evolving very positively and the majority of the country will be open as of the 1 July with minimum restrictions imposed on the population."
Will I have to quarantine when I arrive?
In continental Portugal, there's no quarantine or self-isolation period required – although there are temperature checks in place at the airport. If yours is high or you show signs of being unwell, you will be referred to the health authorities at the airport and may be required to take a Covid-19 test and self-isolate at your accommodation until the test results are known.
If you're heading for the Azores, you'll need to complete a traveller questionnaire 72 hours before you travel. On arrival, you will need to either show proof of a negative Covid-19 test, carried out 72 hours before you arrived, or take a test on arrival and await the results at your accommodation. Those staying longer than seven days will have to repeat the test locally, six days after the original test was done.
Those entering Madeira and Porto Santo are asked to upload proof of a negative Covid-19 test carried out 72 hours before departure and to complete a traveller questionnaire 12-48 hours beforehand. If you do not have proof of a COVID-19 test, you will have to take a test at the airport and self-isolate at your accommodation until the results are known (around 12 hours).
Can I travel within Portugal?
Yes, there are no specific restrictions on moving around within Portugal. Public transport remains in operation, but capacity has been reduced to two thirds to enable social distancing, and masks are required at all times. It is currently prohibited for cruise passengers to disembark in Portugal.
Are hotels open?
Campsites and motorhome parks are allowed to reopen to visitors provided capacity and hygiene measures are met, and hotels have been able to open for tourists throughout June.
A "Clean and Safe" stamp created by Turismo de Portugal (the tourist board) certifies which hotels have implemented enhanced hygiene and safety measures.
Airbnb properties are also up and running.
Are restaurants, shops and attractions open?
Since 4 May, bookshops, hairdressers, beauty salons, libraries, sailing clubs and golf courses have been open in Portugal, with social distancing measures in place.
This was followed on 18 May with the reopening of museums and other tourist attractions such as monuments, art galleries, palaces and churches, plus restaurants, bars, cafés, patisseries, terraces, promenades and shops of up to 400 square metres.
Zoos and aquariums are open, and beaches reopened on 6 June with "supervision" in place and access denied if there's a risk of overcrowding.
Cinemas, theatres and concert halls have been permitted to open since 1 June.
The Portuguese tourist board has developed a "Clean and Safe" stamp to identify travel companies and services, such as hotels, tour operators, restaurants and other activity providers, that are complying with certain hygiene and cleaning standards.
What rules are in place?
Throughout Portugal, the use of non-surgical masks is mandatory in enclosed spaces, such as supermarkets, shops, beauty salons, schools, public services, at the airport, in taxis and on public transport, for anyone over the age of 10.
You're also required to remain two metres apart from other people when in public, respect the rules on maximum capacity on public transport, in shops and other establishments, and practise good hand hygiene.
Contactless payment is also being encouraged wherever possible.
Drinking alcohol in public places, except for pavement cafés and restaurants, is banned, and gatherings are limited to 20 people, except for religious ceremonies and family events, such as weddings and christenings.
Rules are stricter in the Greater Lisbon Metropolitan area right now, after a spike in coronavirus cases: private and public gatherings are limited to 10 people; the sale of alcohol at services stations is banned; and shops and services close at 8pm, with the exception of restaurants, supermarkets, chemists, sports facilities, petrol stations, health and veterinary clinics.
There are 19 parishes within the Greater Lisbon area that are still in a "state of calamity" – residents are encouraged to stay at home, gatherings are limited to five people and open air fairs and markets are banned.
Will I have to quarantine when I come home?
Yes. When you arrive back on UK soil, you'll currently have two weeks of mandatory quarantine to look forward to.
The policy was implemented on 8 June and put in place indefinitely.
The government relaxed the rules from 10 July for certain destinations, and has since added some and removed others.
Countries regarded as "low-risk" by the Joint Biosecurity Centre – which was set up to coordinate the government's response to the pandemic – are no longer subject to mandatory quarantine.
Portugal was not included on the initial list of countries exempt from quarantine and, while it was hoped it would be added on the next round of reviews, it missed out once more.